My Friday's Fancies today is all about sweet treat inspirations. One of my favorite sweets of the summer is the refreshing, summertime cocktail. Particularly, watermelon and lemonade fabulously compliment each other not only in taste, but also in color pallets, and I used that color combo to come up with my outfit inspiration board for the day.
These colors scream summertime and look perfectly airy and effortless while complimenting their classically chic color pallet.
Here's one of my favorite Watermelon Lemonade recipes from
allrecipes.com
you have to try this summer.
Ingredients
1/2 cup white

sugar

1/2 cup water
4 cups cubed watermelon
3 cups cold water
1/2 cup fresh

lemon

juice

6 cups ice cubes
Directions
Place the watermelon into a blender. Cover, and puree until smooth. Strain through a fine mesh sieve.

Bring sugar and 1/2 cup water to a boil in a saucepan over medium-high heat until sugar dissolves, about 5 minutes. Remove from heat. Stir in 3 cups of cold water and the lemon juice. Divide the ice into 12 glasses, and scoop 2 to 3 tablespoons of watermelon puree over the ice, then top with the lemonade. Gently stir before serving.

( You can add a little vodka to make it an adult cocktail as well)
Want to join in on My Friday Fancies? Hop on over to Long Distance Loving to sign up!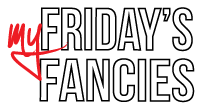 What sweet treats inspire your wardrobe?