It's been a while since I posted a look from Olivia Palermo and when I found out My Friday's Fancies is all about outfit crushes today, I knew I had to pull inspiration from a favorite style muse. Olivia always is spot on trend whether she's attending an event, or just out to get coffee, she is a flawless
beauty with a look that is always stylish. One of my favorite trends this season is biker sheek leather. You don't have to ride a motorcycle to sport this trend. It can actually be very classy but still a little edgy at the same time, so take a look at how Olivia Palermo pulls this together.
I love this look so I will definitely be adding a pair of these pants to my wardrobe this season. The trick is to not go too expensive since they are super trendy, however, don't go too cheap either...you'll take the chance of your new wardrobe statement piece looking like pleather (plastic/leather...you know the look)!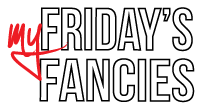 Don't forget if you're in Nashville to check out the Claire's Closet Upscale Women's Consignment Sale. Follow me on Facebook, Twitter, or Instagram to see some of the great items you can score at this amazing sale!
Friday 1:00-7:00
Saturday 10:00-4:00 (out of town guest can start shopping via facebook at 3:30)
Sunday (half price sale) 11:30-3:30
So...will you be rockin the leather pants this season?