Happy Friday! This feels like a really short week to me but don't think I'm not totally ready for the weekend. I will heading to the beach this week so I have some fabulous guest posts lined up for you all next week. You really don't want to miss out...trust me! You'll be seeing some of your favorite blogs right here on Wine Taste Girl including a little someone from today's favorite link up....Ms. Alison from My Friday's Fancies....stay tuned. So today's My Friday's Fancies is focused on the stars and stripes theme and I was so excited to actually be able to put together an outfit that yours truly has in my own closet....minus a few of the accessories.
If you all want to join in on My Friday's Fancies then go visit Alison over at
Long Distance Loving
to link up!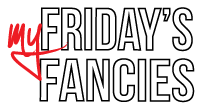 Which is your favorite? Stars or Stripes?