Chunky, cable knits and comfy, over sized sweaters are a must for fall wardrobes and today's My Friday Fancies is focusing on all those go to pieces we love to sport this season. My main stays are the basic sweaters you can pair with numerous outfits to transition into the colder months and still look fabulous doing it. Check out my fashion muse of the day, Vanessa Jackman, and her gush worthy winter wardrobe that inspired my set today.
I also wanted to share with you all a sneak peak of a fabulous site I am partnering with called Hybrid Her. They sent me this gorgeous silk scarf today from Takeo Silks and I couldn't wait to share it with you all. Not only is the scarf amazingly beautiful, but they are also made by some beautiful women in rural Cambodia. The proceeds directly benefit these women and their families so it makes it even that much better when you own one for yourself. I will be bringing you much more from Hybrid Her in the upcoming weeks, so stay tuned

.

You definitely will want to add something from this must shop s

ite to your holiday wish lists!
You all have to stop by one of my new favorite blogs, Pinterest Told Me To today. Sweet Sheaffer has some amazing Pinterest inspirations and she pulls off the looks herself flawlessly, and inspires others to do so as well. She's featuring me today and my

trench coat post from this week, so please stop by and say hi!
I'm linking up with Long Distance Loving today

for My Friday's Fancies.

If you want to join in on

all the

fun, check out Long Distance Loving and link up.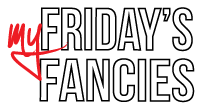 What Do You Think of The Over

S

ized, Cozy Sweater?