My Friday's Fancies this week is all about summer sunset celebrations. I love that time of day the most, as it is a time to lay back, relax and hopefully take in the beauty of the day gone by. If you are watching the sunset at a beach, it's even better! My outfit inspiration today is fitted with the colors of sunset and the ocean as those are two things that just seem to go together so well in my mind. I hope you may find a little sunset celebration this weekend whether it be at the beach, or in your own backyard.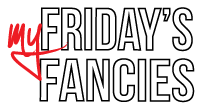 If you get a chance, check out Laura's blog at
Styled By Laura
. I guest posted for her yesterday and her blog is amazing! You have to check it out. Thanks Laura!