The white tee is a classic staple everyone should have in their wardrobe. In fact, if you're like me, you should have several as I always seem to spill and stain mine....maybe I'm just super messy! I already have my supply of tees, so I was really excited to see the white tee in the mix again for the fall fashion trends.
My Friday's Fancies
today is focused on the classic tee and showcasing all you can do with this one, simple piece. Here's my take on a gush worthy outfit I will totally be sporting this Fall season.
I consistantly adore Rosie Huntington-Whiteley's style and here she does it again. The faux fur vest, coupled with the classic jean and tee is spot on for shopping, travel, or just looking effortless.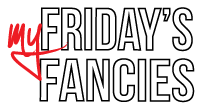 We still have a few of the green statement necklaces left!
They are just $50 and the perfect accessory for any fall outfit! If you want to order one, just leave a comment with your e mail address on the original post
here
.
So what's your favorite way to wear the classic white tee?