Today's Friday's Fancies is all about back to school. I have to admit, this one was a bit hard for me since I haven't had a first day of school in about a decade, but I gave it the old college try. (Pardon the pun!) So what would I wear if I was going back to school? Well, it would have to be something other than pajamas, which I unfortunately remember were wore at times. We also seemed to sport a lot of hiking boots, jeans, and Northface pullovers....I did go to University of Tennessee after all. Times have changed however, and styles have as well, so now I would style my first day of school ensemble much differently. Check out my pics for a fabulously fun first day of school frock!
If you want to join in on all the My Friday's Fancies Fun, hop on over to
Long Distance Loving
to link up!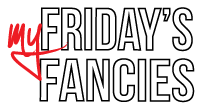 What's your favorite back to school look?